State tax revenues are coming in strong, rebounding from the downturn of 2020 during the worst of the pandemic, and even surpassing the same period in 2019, according to an analysis published Tuesday.
The just-released Monthly State Tax Revenue Highlights from the Tax Policy Center at the Urban Institute analyzes data collected through June 2021, which is the final month of the fiscal year for most states. In aggregate, state taxes were 26.5% higher for the fiscal 2021 year than in 2020.
Among 43 states, 
41 reported growth in total tax revenues, and 40 states saw double-digit growth
38 states reported growth in personal income tax revenues, and 34 states had double-digit growth 
39 states reported growth in corporate income tax revenues, all of which were in the double digits
36 states reported growth general sales tax revenues, with 29 states reporting double-digit growth
The Tax Policy Center also compared growth in state tax revenues for the four months ending in June 2021 with the same periods in 2019 and 2020.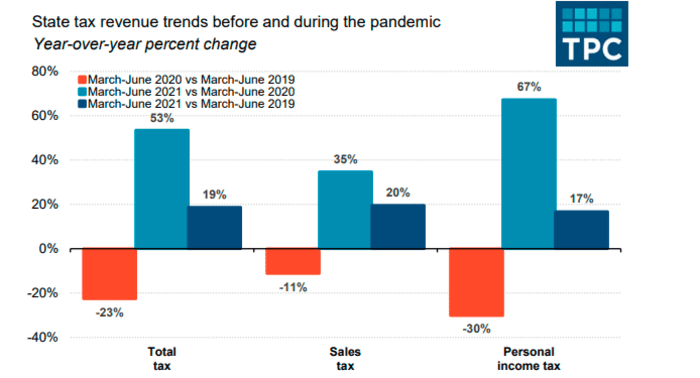 As its researchers write, "The March through June 2020 period was largely the worst fiscal period for states during the pandemic. Total state tax revenues as well as personal income and sales tax revenues saw steep declines compared to March through June 2019."
After a big decline in 2020, it's no surprise that 2021 saw a rebound, but revenues are higher in 2021 compared to 2019, they note, reflecting "stronger consumer confidence, an improving economy and federal assistance."
See: Federal stimulus is a 'lifeline' for communities whacked by the corona-crisis, as scars of 2008 linger
As previously reported, the pandemic hasn't been as bad for state governments as initially feared, largely because so many higher-income workers were able to carry out their jobs remotely, minimizing the expected hit to income tax collections.
What's more, the shift in spending to goods that could be used at home, and away from services like entertainment events which were largely closed, aided in sales tax collections. 
Read next: U.S. state budgets will tick up in 2022, report finds